It's official. PDGA grabs another NEFA all-star!
4/11/2011 by John Borelli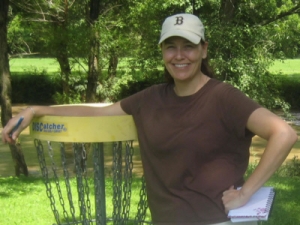 Congratulations to NEFA's own Marcy Borelli as she heads to the center of the disc golf world next week! Marcy has accepted a position as the new office manager for the PDGA at the International Disc Golf Center in Appling.

Marcy is currently the MA State Coordinator and has quickly made her mark in NEFA. I, of course, couldn't be happier for my wife!

Marcy heads South next Sunday, the day after she TDs the King of the Hill B-tier at Devens.

> Read the official announcement

Comments:
by Tyler on 4/12/2011 at 10:09:16 AM
Congrats Marcy!! That's awesome news
by yaskis on 4/12/2011 at 11:12:08 AM
Congrats Marcy
by Mergz on 4/13/2011 at 8:12:31 AM
Congaratulations Marcy! I'll miss you guys.
by Heather on 4/14/2011 at 10:58:27 AM
Hey congrats Marcy...hope you enjoy every second of it!
---
This post is more than 700 days old, further comments have been disabled.
---